Now as promised, the super-duper shopping post! Bear in mind that this was purchased over the course of a few weeks and not in a matter of days. First things first; my bits from Schwing Schwing finally arrived in time for a very important evening out, which was very useful. I loved this monochrome top when I saw it on the site, and I was glad the slightly unusual shape suited me. The only problem? It has the tendency to blow up with a gust of wind, so the whole world knows what underwear I'm wearing! Despite this I still like it, and will experiment with different bandeau tops underneath to protect my modesty.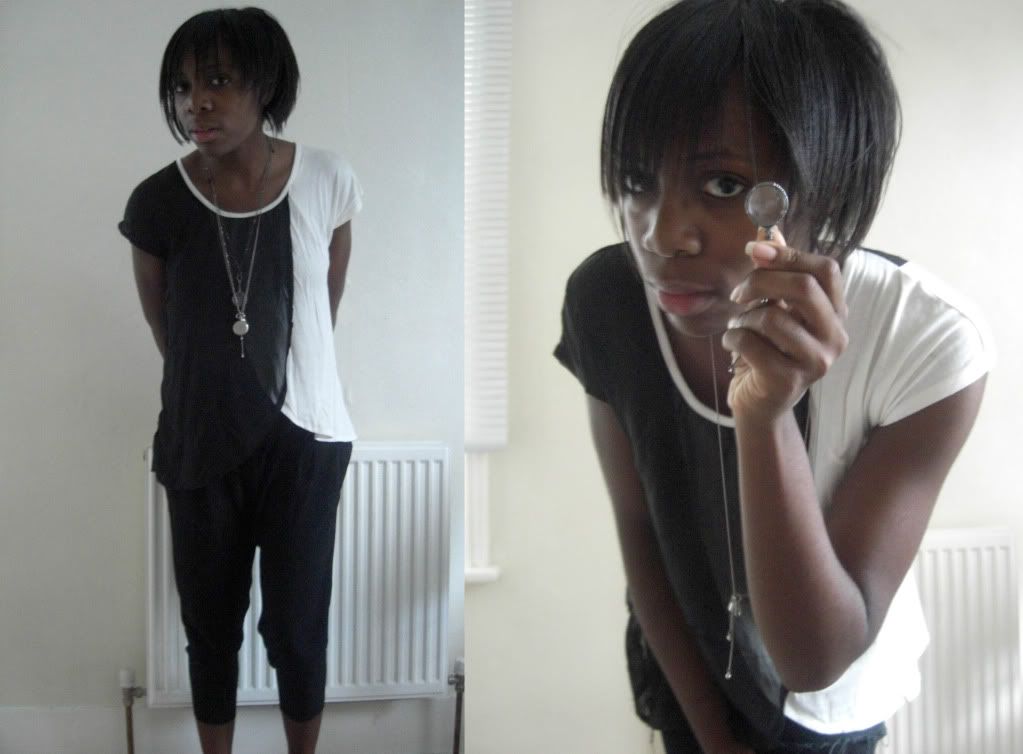 Also, here is my Marc by Marc Jacobs magnifying glass necklace, bought in their lovely Mount Street store for just £7. I like how they have bargain bucket priced bits mixed with all their catwalk pieces, making the store itself far less daunting than others. My jewellery can only get more random, whatever next? A bathroom tap? My house keys?

I had no idea that Henry Holland would be selling his tights from his Autumn Winter 2009 catwalk show, and was even happier when I heard they'd only be £10! After being completely priced out of the market for the Chanel two-tones, I was glad to see a reasonably priced pair, as tights are notoriously fragile (I only have to look at a pair to ladder them or stub a hole in the toe) and easy to ruin, to warrant a ridiculous price tag. So I happily legged it to Selfridges, and picked up one of the coffee style cups, full of tights goodness. The tonal effect is not as pronounced on my skin tone (perhaps I can pull them up more, Simon Cowell stylee), but there nonetheless. Now I've got my posh Selfridges bag, I'm tempted to order the purple and alphabet pairs online, to keep my legs well adorned this Winter.

Time for another blazer methinks. This was picked up from Topshop, with a hefty uniform discount, so I can channel the slightly eccentric country look this Autumn. I was originally going to get another black blazer, but the tartan won me over, and I look forward to teaming it with suitable patterns/chunky scarves etc.

Now a lot of bloggers have opened their own shops (and I will too eventually, once I've worked out what to sacrifice from the overflowing drawers) as it's an easier way to sell their clothes to the right kind of audience, and slightly cheaper than eBay. I've bought a few things from Daniella's shop, and this American Apparel tee is the most recent. I fell in love with the subtle floral print, and the price was far cheaper than in store, which secured the deal. Another bargain was the burn-out leggings from an accidental visit to Primark, which sent another fiver from my purse in as many minutes.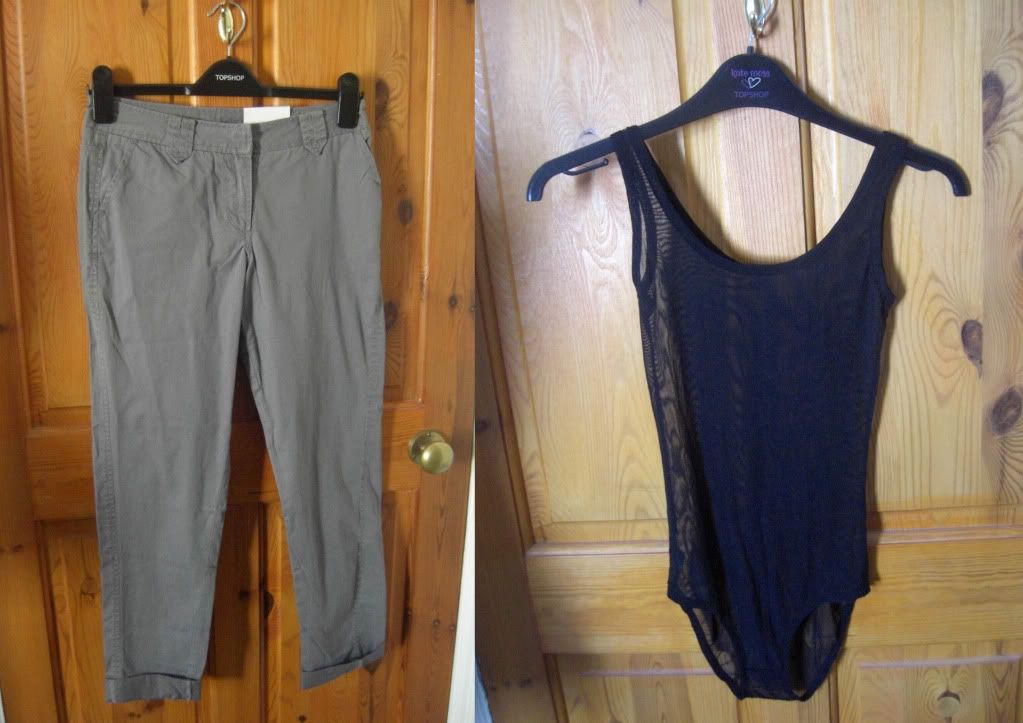 I hear tapered trousers are the thing for this season, and it's always nice to have an alternative to miniskirts and dresses. I picked this grey pair up from the Topshop sale for a fiver, and I really like how the cropped styled shows off shoes (hmmm, I think I need some new shoes now). Also here's my other Schwing Schwing purchase, the mesh bodysuit, which looks scarily saucy in person but I'm sure it'll be fine with a lace bandeau (I do love that word) underneath, and tucked into a nice skirt, to cancel out any association with the way American Apparel might style it.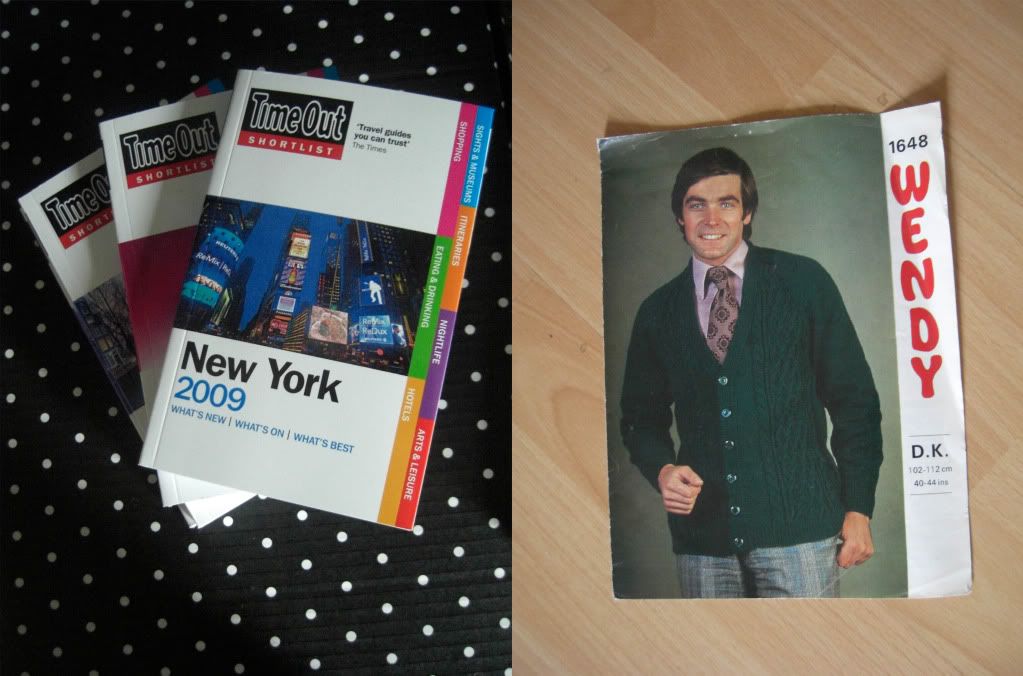 What's this, some non-clothing purchases? Well not quite, the knitting pattern (bought off eBay) will be used to make a chunky cabled cardigan at some point. I throughly recommend picking up the knitting needles, as many shops are producing bits that can easily be knitted by hand (especially the Rodarte style knits, with dropped stitches and ladders galore)! The Time Out city guides were a gift from my mother, so I can finally start getting my head around the concept of NYC (126 days until I go, better sort out that visa), as my knowledge of the city isn't quite up to scratch. I seem to think Central Perk actually exists due to the amount of Friends episodes I've watched.
Have you bought a lot recently? I guess the recession hasn't really changed how I spend, everything I buy is still quite cheap or discounted!