There are many illustrators I love in the big wide world, but Chicago based Brett Manning's works really struck a chord with me. Not only are her characters (yes her; Brett's site is humorously titled 'Brett is a Girl') gloriously whimsical with exaggerated features, but each texture is painstakingly drawn in the finest detail, whether it be flowing locks or a fluffy jumper. Her mission is to let the 'viewer to construct their own meaning rather it be dictated to them,' which is a fitting way to look at her dream-like images. As per usual, I was particularly amazed by the way she represents knitwear, with immaculate stitch detail and the form of the garment captured realistically.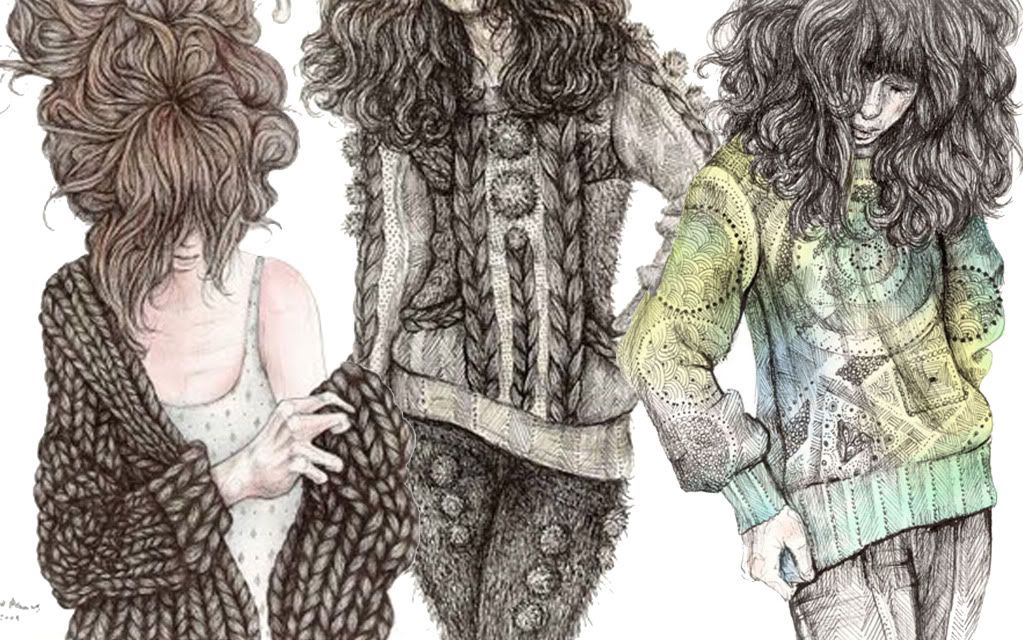 images from
brettisagirl.com
and
etsy
I would love to see more fashion illustrations from her, to admire and take inspiration from, as they are not the typical, somewhat soulless sticks that you see many designers create. Since I was a child, I have always loved to draw, but I would like to develop my style further by making my figures and textures more accurate. This has definitely given me something to think about when I next have to illustrate a collection, in the distant, fourth year future.
Thanks to Kay Bee (very similar to my alias) for sharing this!
Don't forget to enter the competition for Joy vouchers and a fantastic evening, if you're London bound next week!