It seems that November is the month for press days aplenty and I was beginning to feel I was out of luck, until I received an e-mail from the lovely Pam inviting me to
Adidas
HQ in Covent Garden. Now having shunned any form of exercise since the age of 16 apart from walking to, from and around shops (I lasted for around 3 months being a gym bunny) I'm not much of a sportswear devotee. That could change after seeing the latest
Y-3 for Adidas
collection, designed by world renowned
Yohji Yamamoto
and learning how his ethos is translated into sportswear. The latest collection was inspired by the upcoming 2010 World Cup (the only time when I will actually sit down and watch a football match) and the federations involved. Ok, sports-speak over, what I liked about the clothes was the exaggerated silhouettes, deconstruction and attention to detail, so here's a few of my favourite elements of the collection.
A bit of summer knit action; I loved the quality of this fine top and the cut-outs which encapsulate the idea of having a vest layered underneath. A very clever idea. I could see myself jogging in this or at least pretending to, then giving up and getting some Nandos.
Gorgeous photo-floral prints are here to stay next summer; I loved this fun take on the sporty bikini. I wished that the bottoms next to them could be made in a tighter, leggings like form.
Now here's something you might get tangled up in; I was extremely drawn to the numerous ways the humble vest top can be reinvented and how the once simple structure can played with and turned on it's head. The multiple straps and barely visible layers underneath definitely appealed and each design had some extra kind of detail added, separating it from the usual sportswear fare. These pieces made me think of a stripped down version of the deconstructed jersey I'd seen at the Hussein Chalayan exhibition earlier this year, though this time the basic colour scheme meant the form could truly be appreciated.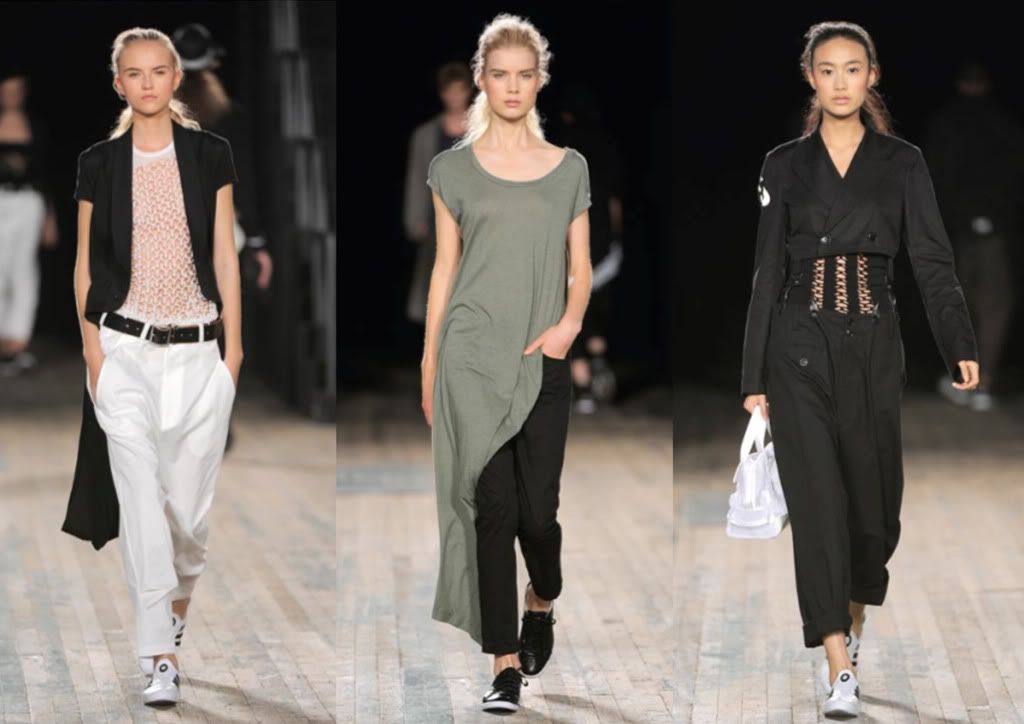 The catwalk images were also intriguing, with a laser cut mesh structure present in many of the designs, reminding me of large knitted loops. I'm not sure what the garment in the third picture is, but if it's a bodysuit, then I'm definitely interested. On the whole, I had an interesting evening at
Adidas,
seeing how the game of football could be translated into fashion forward garments and with all the creative elements I saw, my perception of the brand has definitely changed. Now I can only hope for some of the pieces to appear in future
Net a Porter
sales to kickstart my new sportier lifestyle for 2010.