New Years Eve can often be called an overrated night. Most of the time I've found that my plans have gone awry (last year saw me spending the countdown in the cloakroom queue) and yesterday could have also gone down the pan in a spectacular fashion. I'd had a spot of food poisoning and spent much of December 31st asleep, before realising that I was not going to let anything ruin my first (and perhaps only) New Years Eve in New York city. Eventually, I managed to drag myself out of bed and figure out an outfit to wear to an all American bar, to see in the next decade.
I hope for some better and more frequent outfit posts in 2010, getting a new camera and tripod soon! Sure beats balancing my battered Casio on a suitcase…
New Years Eve deserves a glitzier choice of attire, so I decided to finally wear these sequinned leggings sent to me by the lovely Ceri at
Blue inc
and my new Jeffrey Campbell boots. I also wore various shades of grey, in the form of a New Look lace skirt and basic Topshop vest plus a vintage bag borrowed from my Nan (she hasn't asked for it back yet). The layered necklaces were only £2 each in the Topshop sale and I'll certainly miss finding unidentified sale items when customers come to the till.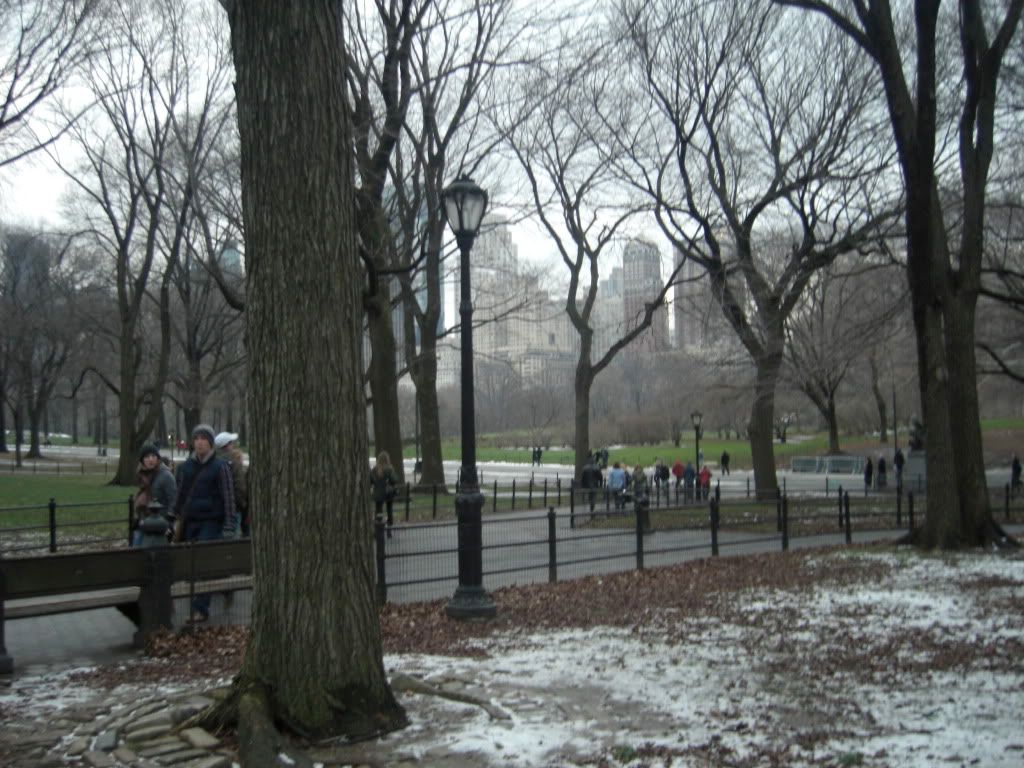 The first day of 2010 saw a visit to Central Park, walking through the parts often seen in movies and marvelling at the romanticism of it all. It was great to go somewhere new, as I am still slowly getting used to everything and had previously only been up the road and around the corner. My main shopping haunts so far have been K-Mart, Walgreens and the 99c store to get household bits, which is slightly annoying. After reading numerous blogs and researching so many interesting shops to visit, I want to tackle them all immediately (and probably empty my bank account) but I know I should pace myself as I'm sure I'll find time to fit everything in. I did however manage to make my first ever
Forever 21
purchases (the store is crazy) and I've also got my eye on some boots in
Steve Madden
. A more comprehensive shopping post is inevitable; let me know if there's anywhere you think I should visit and I shall add it to the list.
Let's hope that this new decade is the one where I finally sort my life out! Of course 2009 was an exciting year, what with this blogging hobby getting a little more interesting, so here's a few of my favourite posts from the past year:
A new year means some developments on this blog, which I am trying to work on in my dwindling free time. A Happy New Year to you all and I hope that 2010 is everything you hope it to be!