It's hard to know what to wear to work sometimes, especially in a slightly corporate fashion environment, but luckily the dress code isn't too strict and I haven't had to really adjust my style. Even though I'm a lowly intern, I try to express my personality and creativity through what I wear so that hopefully, people can see more of what I'm made of. What do you wear to work?
Monday
(The F21 dress bought here in action)
Dress – Forever 21
Cardigan – H&M
Thermal top (worn underneath) – Heattech by Uniqlo
Belt – Vintage
Chunky Bracelet – Freedom
(Mostly impractical when working but a lethal weapon if needs be)
Tights – Asos and Topshop
Tuesday
Cardigan, knitted tank and skirt – Topshop
Tartan long sleeve – Beacons closet (seen
here
)
Leggings – Conway
(A somewhat tacky shop with surprisingly decent basic leggings. It's like Primark's less organised distant cousin)
Boots – Steve Madden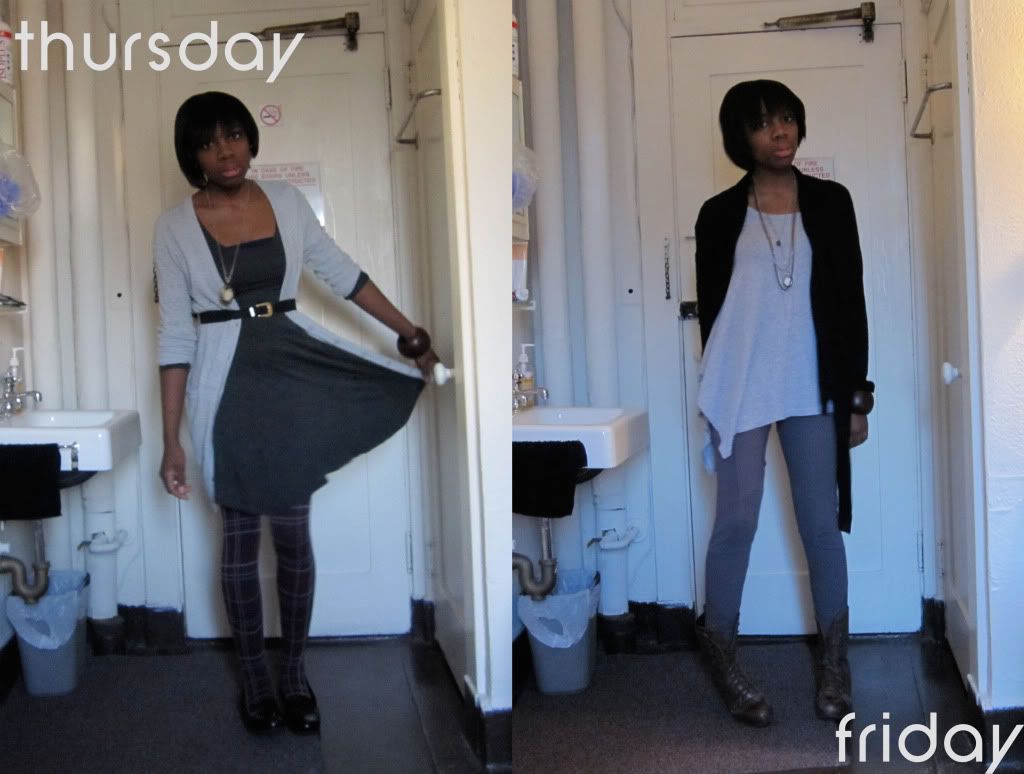 Thursday
Cardigan – H&M
Dress – Forever 21
Tights – Calzedonia
Shoes – Office
Belt – Vintage
Necklace – This Charming Girl
Bracelet – Freedom
Friday
(My sale bargain bought in the Bloomingdales concession, somehow the pricing can work out cheaper over here)
Panelled Leggings – Topshop
Boots – Steve Madden
Necklaces – Freedom and Marc Jacobs
Bracelet – Freedom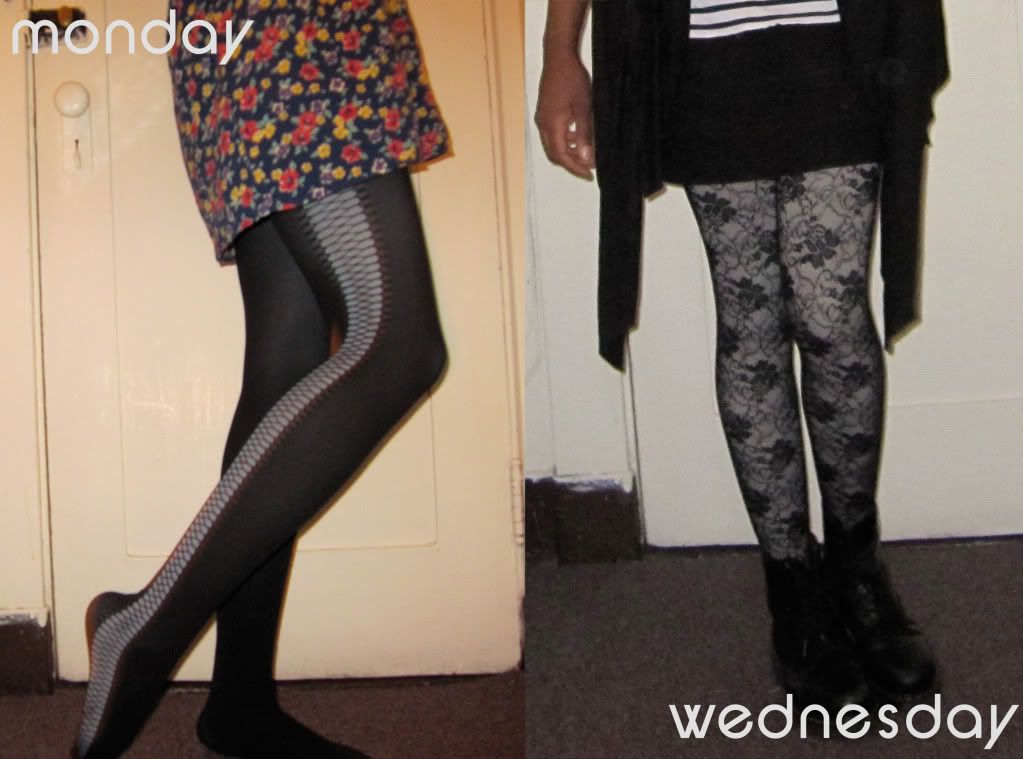 Some bonus photos for all you tights fanatics
I was very happy to recieve a tag and award this week. Firstly, the award comes from
The Right Hypoteneuse
:
So I tag some bloggers who fill me with sunshine:
Diamond Canopy
Flying Saucer
Fashion Daydreams
Save Our Shoes
We Scream Style
London Rose
Tan Shoes Pink Shoelaces
Fabfrocks
A Daisy Chain Dream
I also got tagged at Madness of Mundanity to reveal seven weird and wonderful facts about myself, so here we go…
1. I eat with my cutlery in the wrong hands, so the fork is in the right and the knife is on the left. Despite being told by my parents to change to the usual way, it just won't happen and never will.
2. I physically can't watch Deal or No Deal as I hate to see people lose after making the wrong decisions.
3. I can eat foods in certain forms, but not others. Take tomatoes, I will eat them sundried, in ketchup or in sauces but will pick them out of salads and sandwiches as I don't really like the texture of the fresh variety. I can eat tuna raw in sushi but never in tinned form.
4. I'm a fast walker and busy places like Oxford Street (or most parts of Manhattan) really annoy me. I think there needs to be a fast and slow lane.
5. When I was younger, before the fashion aspirations, I wanted to be a chef. Can you tell I'm obsessed with food?
6. I also used to love writing stories but never got round to finishing them, despite planning them thoroughly from beginning to end. There was a vampire based tale about a loner named Pandora who went to boarding school, which could have netted me Twilight-style millions if finished (I jest).
7. It's rather fitting, but I think of any number including a 7 as being lucky, purely because I was born on the 17th. There is no logic to this thinking, but I guess I just like the number 7!
Hopefully you're not too freaked out by me that you won't read this blog again; I tag you all!