Last weekend I tried to tell myself, that the shopping would be curbed and I would finally buy myself a tripod (all of those
OOTW
shots are currently taken by balancing a shoebox on a chair) to enhance my photo-taking. No such luck; I'd arranged to meet fellow
blogger Ro
in Soho to show her the sights as she's thinking of moving here in the not too distant future. It was nice to show off the city knowledge I've acumulated over the past few weeks, such as tipping random amounts and catching subways in the vague direction you want to go. Of course it is impossible to be in this district for long without spending money and after a nice brunch, we thought we'd pop into the crazy sale at
LF stores
(which I found out about on
Where Did You Get That
, a blog that is incidentally making me spend a lot of money due to some of her more easily found purchases). Who knew that two hours later, I would be exasperated over some indecisive shopping moments and many dollars the poorer.
That's right, it was 60% off the entire store!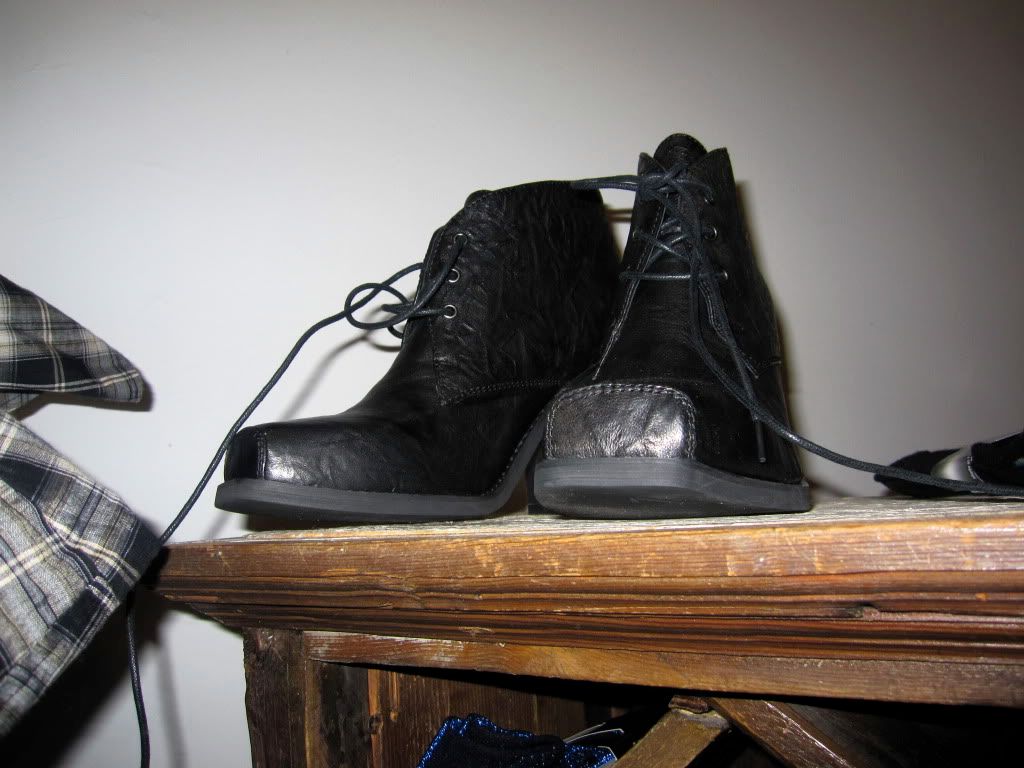 My dream shoe would have been about 30 quid!
I didn't really have any purchases in mind when I went in, as I was in a relaxed, non-shopaholic kind of state but then I cast my mind back a few weeks to
my first visit
. I had been admiring the Jeffrey Campbell shoes pictured above and trying to track them down online to idolise but thought nothing more of them, until I saw one of the pair buried in a pile of random shoes. The size said 8, but this unfortunately isn't the UK, so my excitement was temporary and so I set myself the task to find a bigger size.
The lovely
Ro
quickly found some shoes, and tried to help me find my perfect pair in the chaos
This was also on the same day as the
Angels Sale
in London, does anyone know how it went?
Eventually, after sifting through the rubble, I had to give up. Size 10s were just not materialising and the smaller size left my feet with little breathing space. I tried to find
another pair
that I liked, but also had no luck sizewise, until I saw these beauties….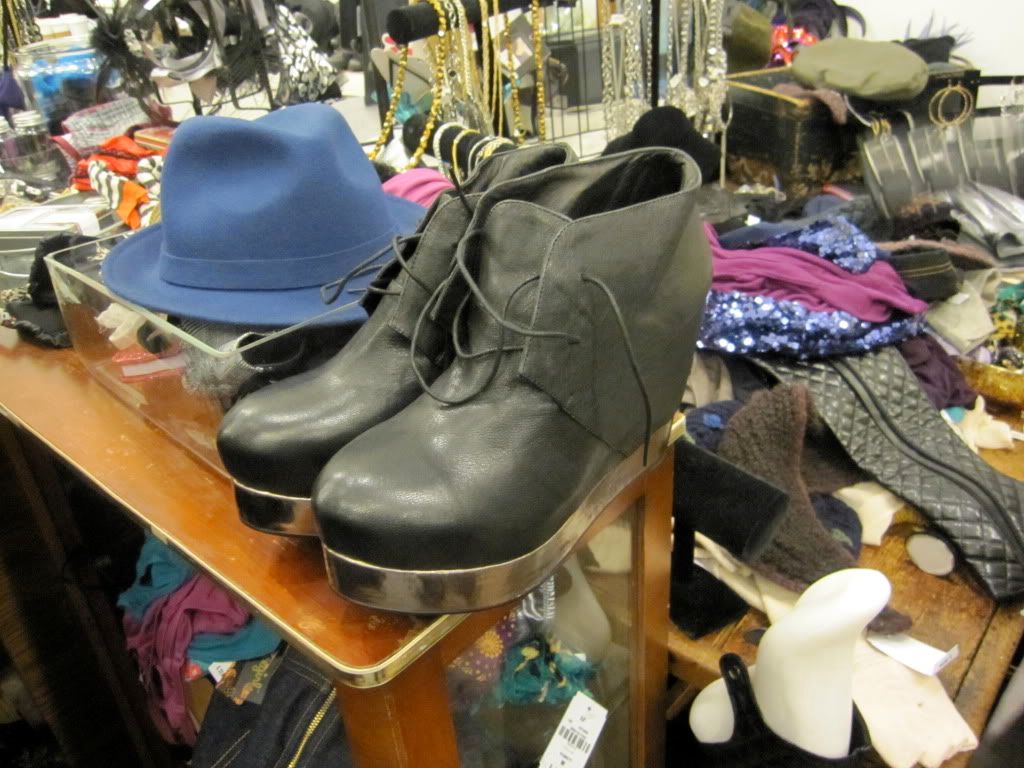 The
Alexa wedge by Jeffrey Campbell
has been on my wishlist ever since the original and far more expensive Acne version left it. Of course I already have the
99 zip wedge
which is a similar shape, but they are not leather and are starting to get a bit scuffed. I was worried about them being ruined totally so this new pair is a great back-up that makes more of a statement and only cost $79! Basically this kind of wedge heel is perfect for me, as my feet never hurt and I can walk around in them night or day, so in my mind they are an investment piece and will hopefully last a long time. I seem to be a Jeffrey Campbell cheerleader at the moment, especially the lace-up/boot variety and could have easily bought the three pairs were they all in my size (though I may have been somewhat homeless). Although Spring seems a long way off, I can't help thinking that my next pair of shoes should be somewhat, prettier? I love to grunge up clothing with a heavy black boot, but I think I need to search for a softer kind of shoe, suitable for the pretty floral dresses I have yet to buy. What's your shoe dilemma?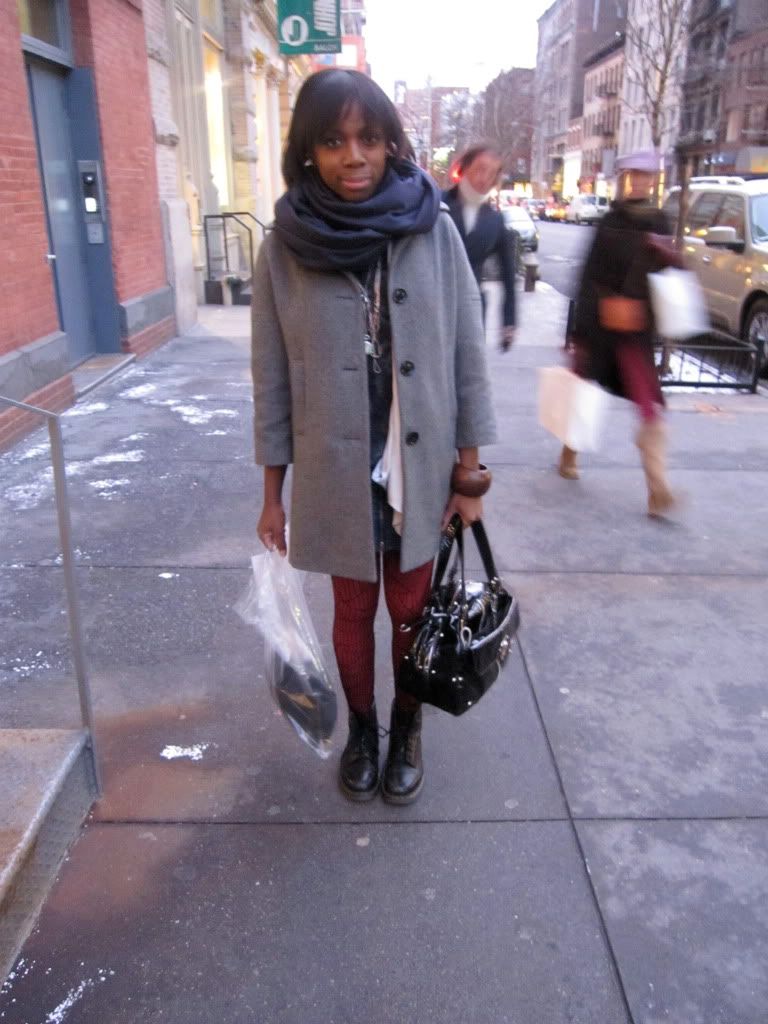 The face you pull after spending much of your deposit money on shoes! If all goes well, I'm moving to Brooklyn in a few weeks! Also note the Spiderman style tights combo…
Speaking of shopping, does anyone want to buy
this jumper
? Not all of my vintage purchases go to plan…