It's been quite easy to forget that I'm still a knitwear student, what with all the foreign travel and online distractions. A packed envelope sporting the University letterhead recently confirmed this and I will be back on campus soil in just over a month with a presentation to prepare and a new project to start. I get so many weird responses when I tell people the nature of my degree, as knitted cardigans and jumpers have previously been associated with all things 'Granny' but gradually the mood has started to change. Many people are intrigued by the extent of what can be created and as the catwalk images slowly filter down to the masses, I've seen the High Street produce some great pieces in all sorts of patterns and shapes. Even
Topshop
has a guide if you don't know your crochet from your cables and I've been envious of many a friend in a hand-knitted charity shop find. With another year of knitting-fun looming, I've created a compilation of things I'd quite like to make and wear in the near future.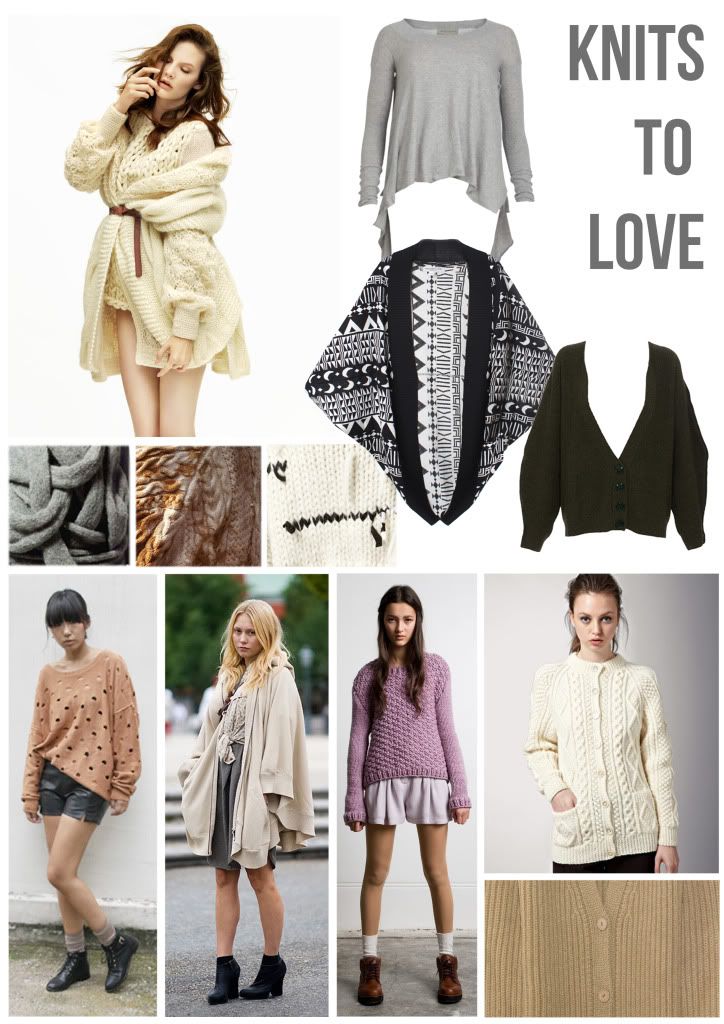 Images l-r
Fashion Gone Rouge
,
All Saints
,
Outsapop Trashion
,
Browns
,
Miki Fukai
,
Sea of Shoes
,
Asos
,
Wozoco
,
Vanessa Jackman
,
Twenty Seven Names
,
Asos
,
Net a Porter
Random fact: my most popular post on this blog is my
Circle Scarf Tutorial
and it's also that time of year where I think about knitting a sibling to join it. It will probably be another circular style, but an updated shearling inspired version, to save the money I might have spent on
this Acne jacket
in an alternate universe. What's your view on knitwear for this season or just in general? Do you prefer cutesy cables or laddered destruction? Make me jealous of your finds from a relatives attic!
I was also featured on Asos!
Follow on