Currently I'm snowed under with Uni work, but lets cast our minds back to the more carefree time of mid-September. One of the things I miss most about London Fashion Week is the amount of bloggers in the midst. It's hard to get us all together sometimes, what with education, employment and location playing havoc with any meet-up plans, but most can make a bit of time for a slice of London Fashion Week. Our conversations mainly take place online so when we meet up, the awkward 'getting-to-know-you' phase is made redundant, as random subjects like stalker neighbours and tights collections have already been discussed on
Twitter
. Even the bloggers I hadn't 'met' before and previously just read, seemed delightful in real life and I truly feel you can tell a lot about a person from their blog and whether you could actually hold a conversation with them. Here's a trip down memory lane with some previously unpublished photos documenting some excellent style as well as personalities.
I need me some high waisted skinnies; I've always been rather scared of them but Jen's relaxed styling with the loosely tucked in shirt has convinced me.
Geneva sported some excellent vivid red trousers and is a thrift and DIY fanatic (I love the tutorials on her blog). I snapped her whilst she was also being snapped by Vanessa Jackman!
We watched Shini consume her first scone ever in the press room, what an honour! However there is no photographic evidence of this fact so you'll just have to trust me. I passed on this skirt at the yard sale as I was bewildered by it. Silly me.
I loved how simply yet chic this outfit was on MJ, with a nod to Autumn's key trends of knotted belts, ankle boots and vintage satchels. It's a shame that bare leg weather is but a distant memory at the moment (unless I can end up in Jamaica again), but I can't wait to sport a variation of this look with colourful tights (of which I have a plenty) and a mannish coat (of which I have none…grrr).
Jazmine
always looks great and it's no wonder she was snapped by Italian Vogue in this outfit; I love the ease of the knotted tee over the maxi.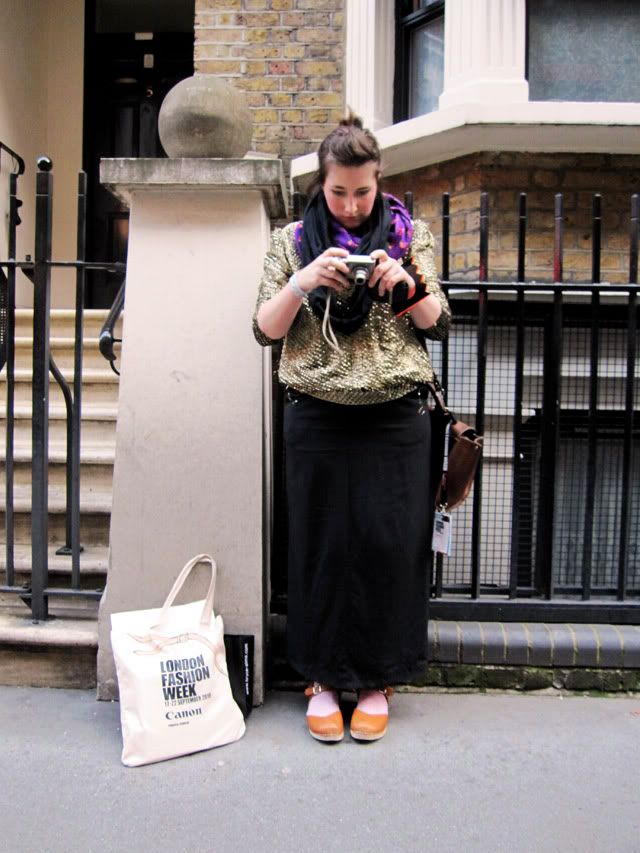 I just love Fi in general.
The way I've taken this photo makes Winnie's tights look slightly ombre (Topshop please sort it out), though despite the imaginary effect, the wine colour suits my mood perfectly at the moment.
It's hard to pull of various patterns at once, but Yishyene pulls it off with aplomb combining a D&G style knit, leopard print skirt and some fabulous booties.
I touched on this earlier, but you'll never meet a more photo-obsessed bunch, of people with the perfect location for outfit and destination photos always in the back of our minds. What I found even more interesting was taking photos of people taking photos or having their photos taken (same thing really), for a behind the scenes sort of shot. In fact I was snapping Reena, when a random guy approached us and wanted to snap her too, so I decided to document how the situation unfolded. Interesting fact: I've now known her for just over a year which is quite a milestone! Here's a few more candid snaps of random Fashion Week moments.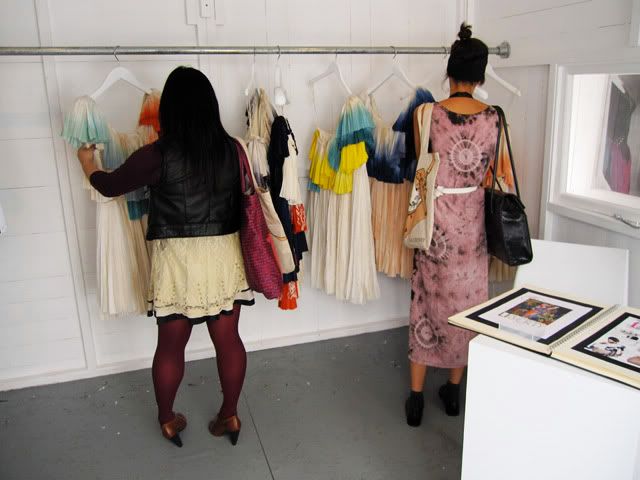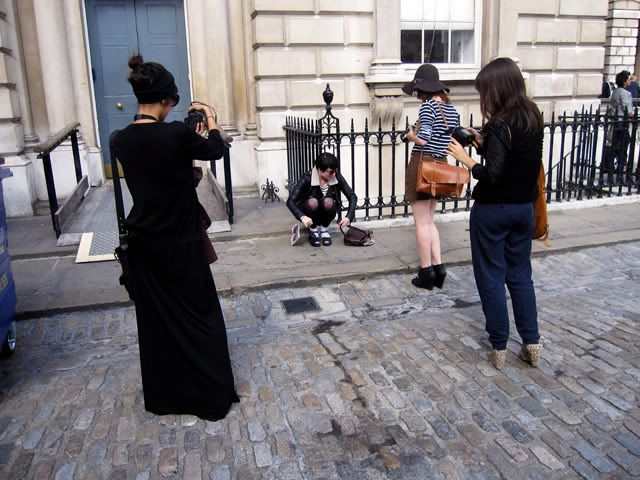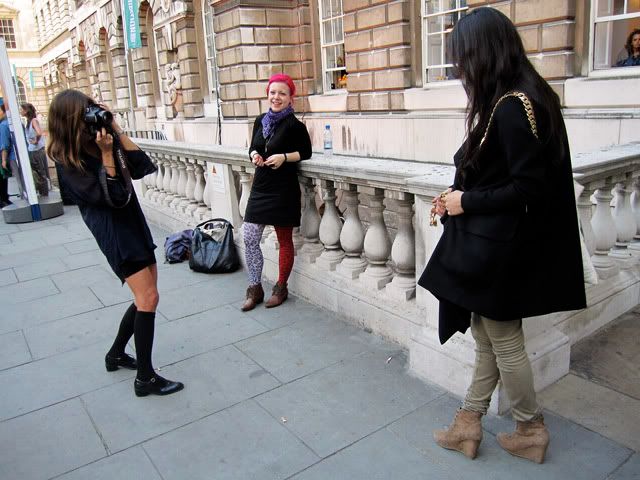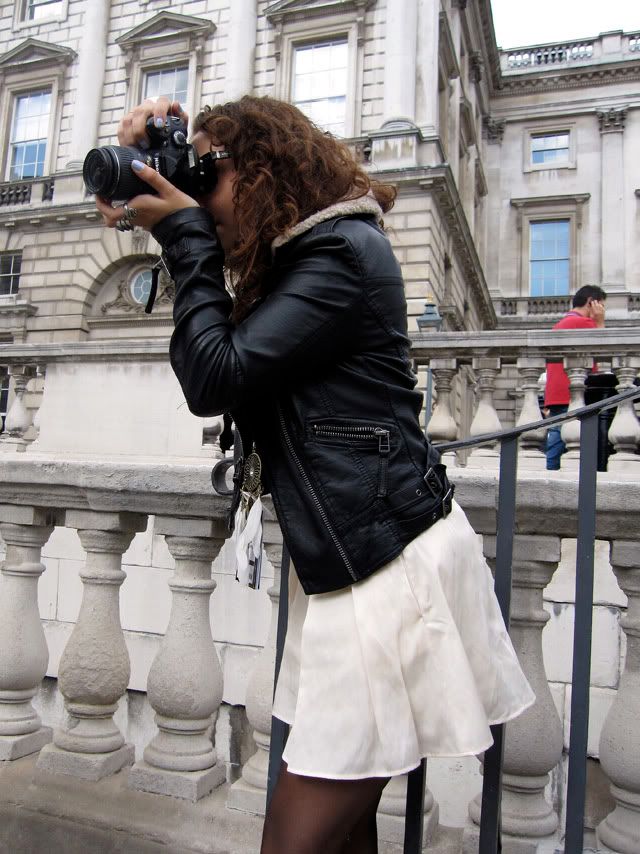 Adele
taking a picture of Reena; she's currently in Italy as part of an Erasmus year, but hopefully we'll cross paths again and she can help me translate Italian Vogue!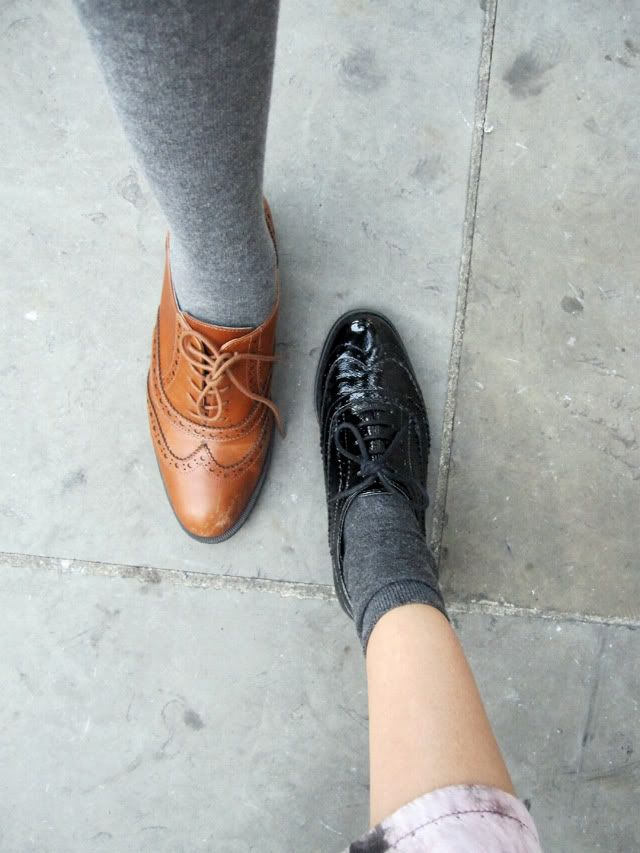 I'm extremely glad that I could to meet so many friendly people in such a random way; bring on February!
Follow on