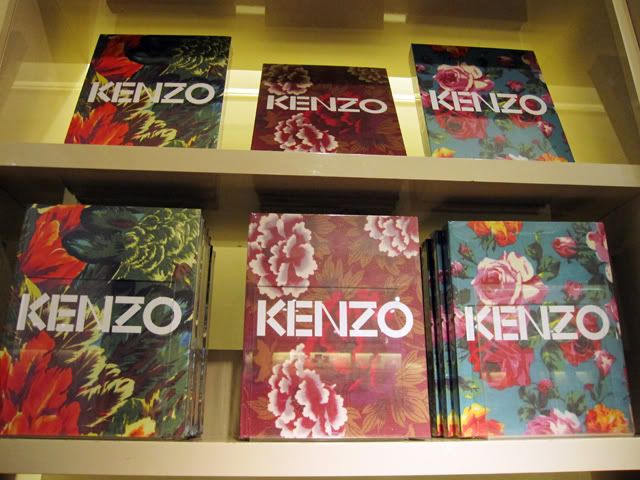 I seem to get a lot of my vital information from
Twitter
these days, such as who's divorcing who, where to find a discounted dress and how to light a gas oven. I've even won a few competitions. All very random. It just so happened that I glanced at my feed during one of my 'Working At Home' days when
Jazmine
tweeted about getting
V&A Kenzo Fashion in Motion
tickets. This is an
event
that the
museum
puts on showcasing designer collections for free, meaning that anyone can get the Fashion Week experience providing they can get tickets before the masses (and be quite happily put on hold for a very long time). Within the next hour I had somehow obtained tickets, booked a train out of The Shire and invited
Winnie
along, all because of reading a tweet I could have so easily missed!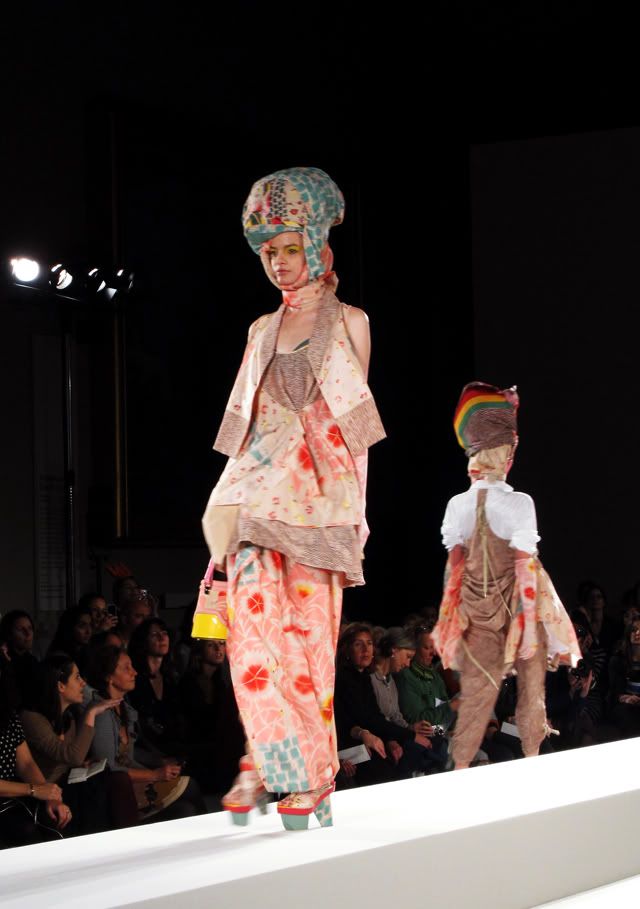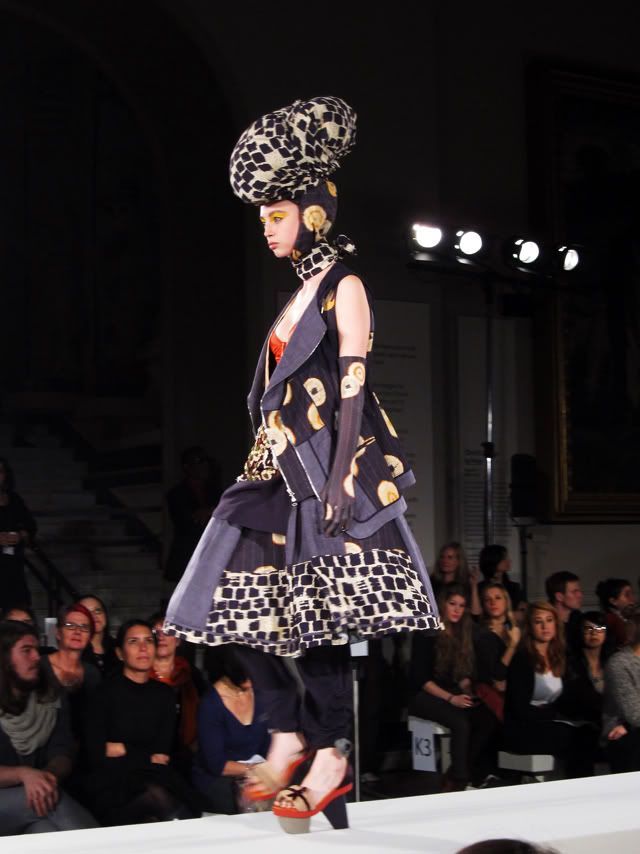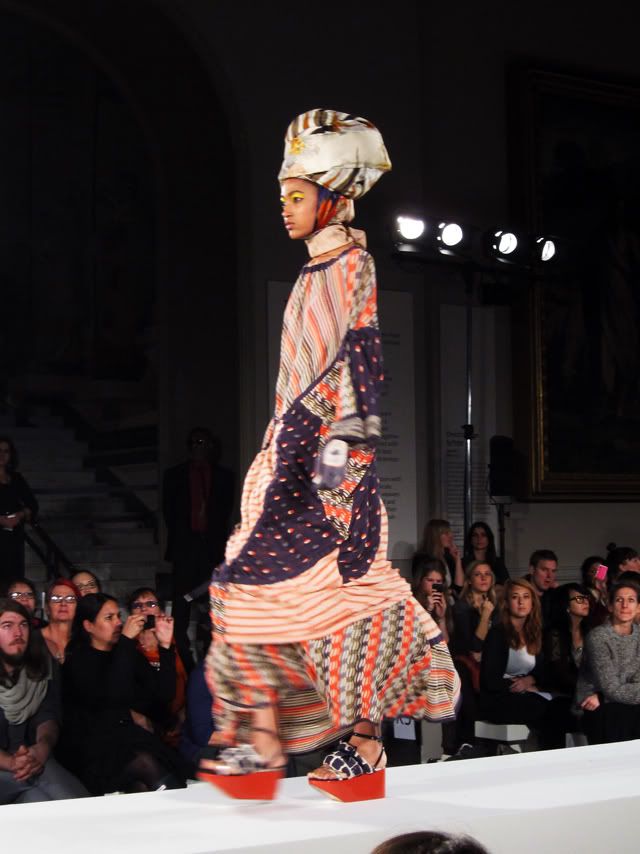 Not the best photos, must've been shaking to pure excitement (and being told off for blocking someone's view)
I'm can't really pinpoint when exactly I became a
Kenzo
fan but I guess the eclectically collaged prints of the label drew me in each season (and the
gorgeous window displays of the Paris store
sealed the deal). The house was originally formed in 1970 by Kenzo Takada, but since Antonio Marras' appointment as creative director in 2008, his own Sardinian heritage has been injected into the label known for combining elements of East and West. I'd read first hand accounts about the recent Spring 2011 collection on another
blog
, but it was amazing to see a show with the key Kenzo elements for myself. I really liked the staging at the end where all the models stood still for a bit (see a short video
here)
and you could admire everything side by side and see the progression of colour throughout the looks. After the show,
Winnie
and I admired the commemorative
book
in the shop, which was covered in beautiful cloth and even contained pop-up pages inside. A definite must for the growing Christmas list.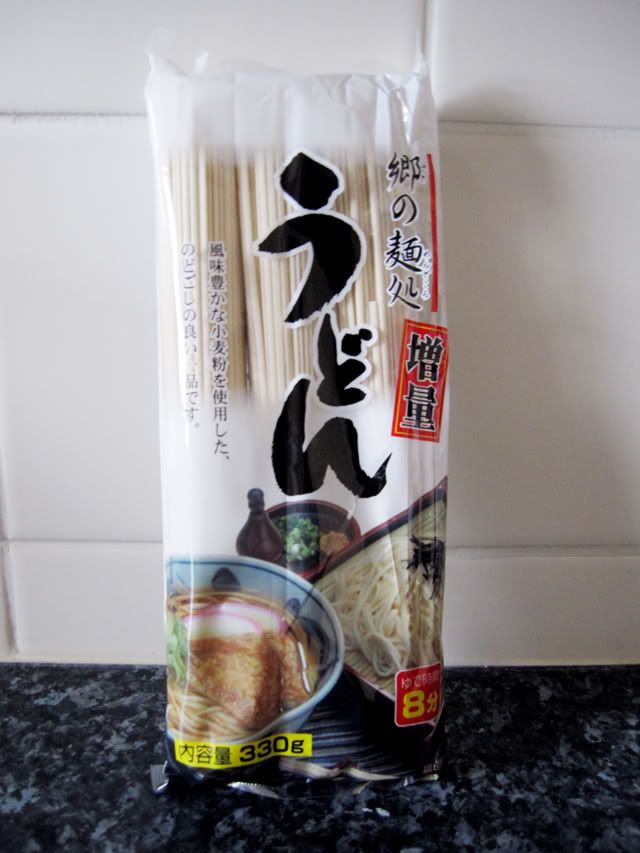 Of course the day wouldn't have been complete without a
Japan Centre
visit. I was quite shocked to find that the magazines were far more expensive than back in
Kinokuniya in NYC
(
Jille
is £11 here in comparison to $8 in the States), even though they must have to travel a similar sort of distance. Why do we get ripped off all the time in the UK? Rant over, I did manage pick up some bargainous noodles for about £1.37 that I almost never want to open due to the mysterious packaging. How I wish I could understand Japanese!
We also managed to grab
Fiona
for a spot of dinner at
Giraffe
in Spitalfields. Winnie had her tea in the cutest teapot and Fiona, well, she had a placemat.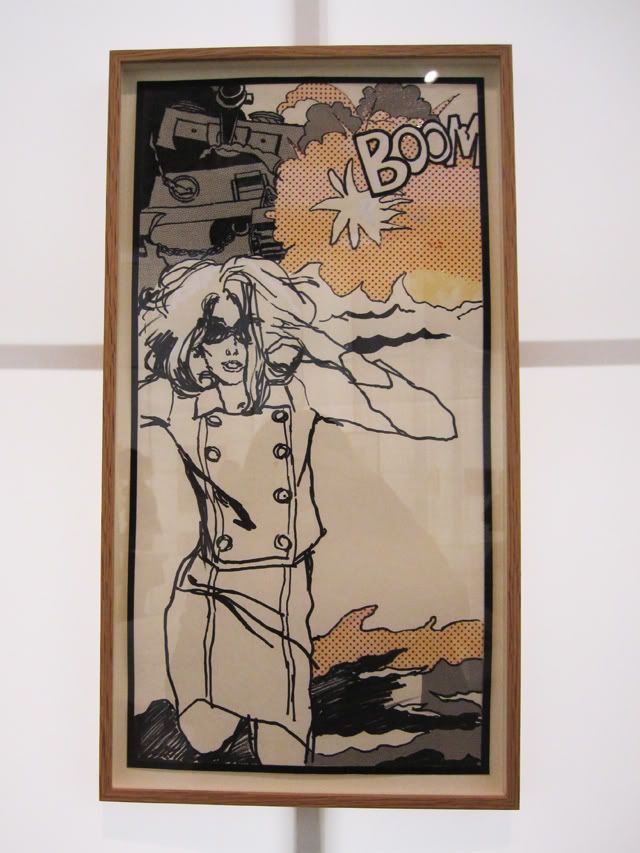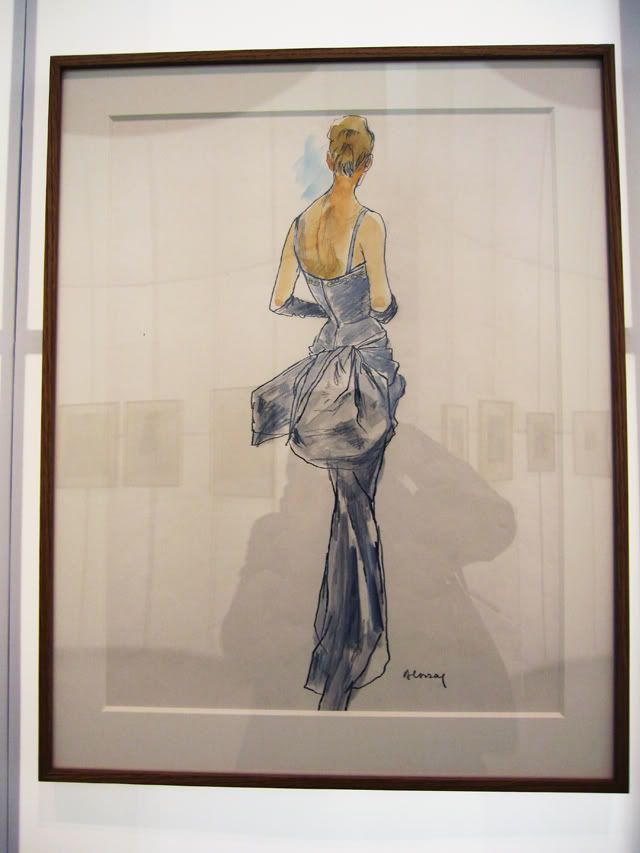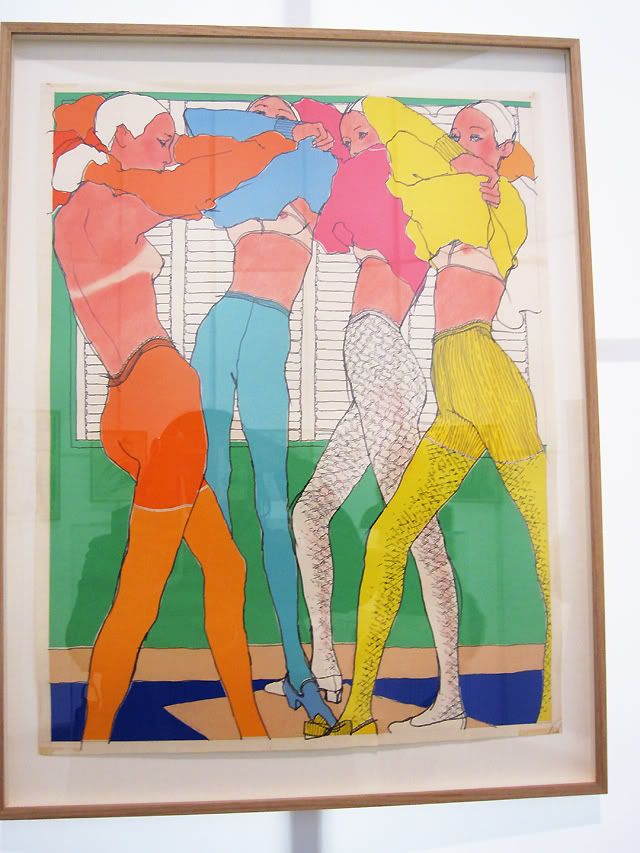 The next day I managed to stop by the
Drawing Fashion exhibition at the Design Museum
, celebrating back to basics fashion illustration with no computer wizardry in sight. Of course I was drawn (geddit) to a piece by
Antonio Lopez
showcasing good old tights. It's funny to think that magazines just featured illustrations around fifty years ago, before being ousted slightly by the growing medium of photography. It was interesting to see how modern illustrators such as
Aurore de la Morinerie
manage to differentiate themselves using techniques I'd never come across before (namely
monotype)
. Just goes to show that Photoshop isn't everything!
After that, I had to quickly catch my train at Kings Cross and I was off back to The Shire and mountains of Uni work. I can't wait to be reunited with London in just under a month!
Follow on