Houston we have a problem, I appear to be addicted to receiving things through the letterbox. I don't really need an alarm these days, as I am woken by the sound of the postman banging on the door (alas we have no bell) to alert me to my latest parcel. It's become so bad that I rarely allow myself to visit shops for fear of becoming totally destitute, but mainly because I prefer the online shopping experience. I'm pretty much a solo shopper; years of retail experience mean that I can go into a store, scan the rails quickly and sum up the offerings before leaving if the stock isn't to my taste. I like to know what's available quickly and get the best deal. Online, I can view several sites in multiple windows and make a decision, but in real life I have to traipse back and forth from shop to shop, comparing and weighing up the options, which is when moments of indecision take hold. I don't mind trying clothes on at home, chucking them (neatly) on the floor and commiserating with a fry-up if they don't fit, instead of looking slightly disgruntled whilst handing it back to a shop assistant. I realise these aren't the thoughts of everyone and it can be nice to see things in person with friends, but I'm quite happy buying from my Internet High Street in the comfort of my own home.
Tights, bracelet, socks – Topshop
Brogues – Office
Familiar territory here, with yet another buy from
Asos
. I used to have a l
ove-hate relationship
with the site due to questionable quality and non-free returns, but now everything I feel for the site is pure love and perhaps slight obsession. The minimal
Asos White
collection is a particular fave and the
sale
is one of my main haunts, but I just so happened to land on the page featuring the
60s knitted shift dress
one day and place an order due to its chic simplicity. There's just something about a Peter Pan collar this season that I love and even though I went for 'boring' black, it means I can wear the craziest tights to accompany it. It's also my first knitted dress, which I normally steer clear of as they can be quite shapeless, but this design bucks the trend (plus you can get a
Heattech
involved underneath for maximum warmth).
Speaking of crazy tights I ordered these
strapping tights
that are supposed to be in the style of Cheryl Cole, but I actually bought them after seeing them on
Yishyene
. That's the power of blogging for you! I realise I have sheer tights in abundance but this pair is just dying to be layered up with vivid colour.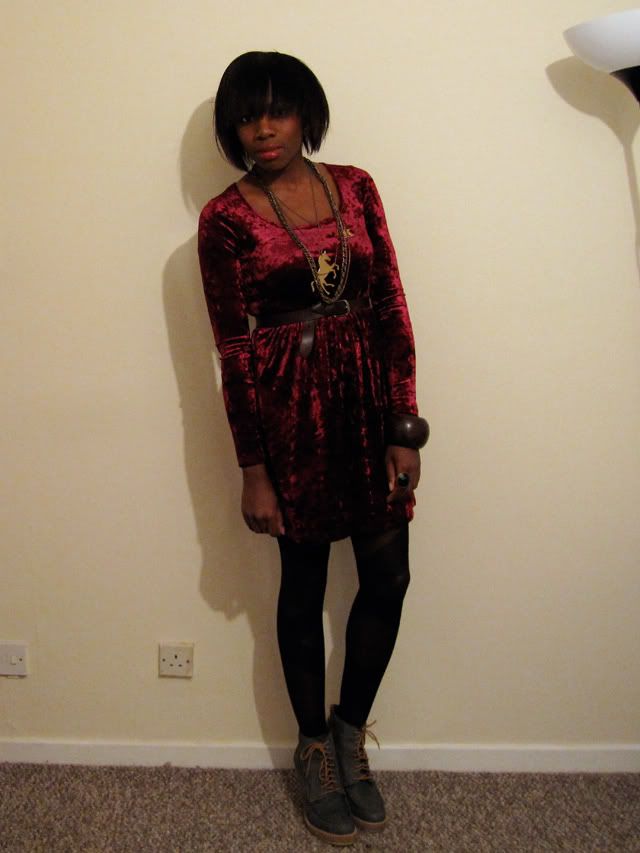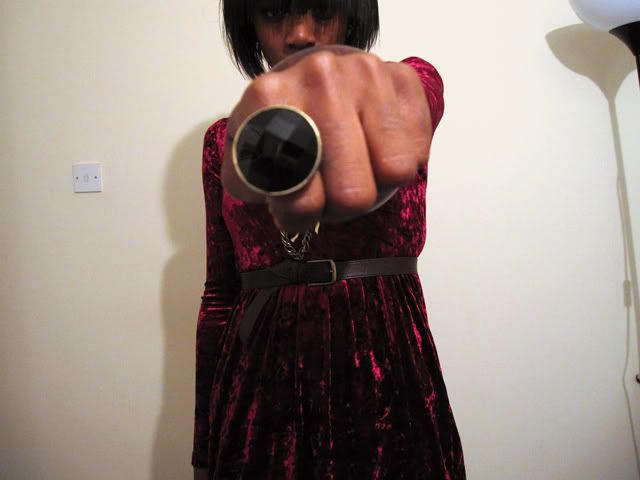 Belt – Angels Sale
Bracelet, Underskirt – Topshop
Lamp – Ikea!
After waiting 24 hours, I finally managed to place a
Forever 21
order due to the site repeatedly crashing.
This velvet(een) dress
caught my eye during my usual
blog reading
and I was wondering how to get it across the Atlantic, but luckily I found it on the UK site. I was slightly disappointed with the shape, as I thought the skirt would be fuller, but that was quickly solved by wearing another underneath to give a little more shape. I also really like the colour and am rather proud I managed to buy something a non-black item that's also festive enough to please my mother on Christmas day. Velvet can be a tricky fabric to buy in shops and it can often look cheap, but I think this dress might just scrape by.
What Forever 21 really excels in is its jewellery, with pieces comparable to Topshop but at more of a Primark price. I managed to whittle down my order to a statement ring, layered chain necklace and horse pendant. To stay true to my knitter roots, I also bought some Fairisle knee high socks. Despite this initial order, I haven't really seen anything else I like so I will quite happily wait until I can visit the store in Birmingham next month with Winnie. Have any of you seen it yet?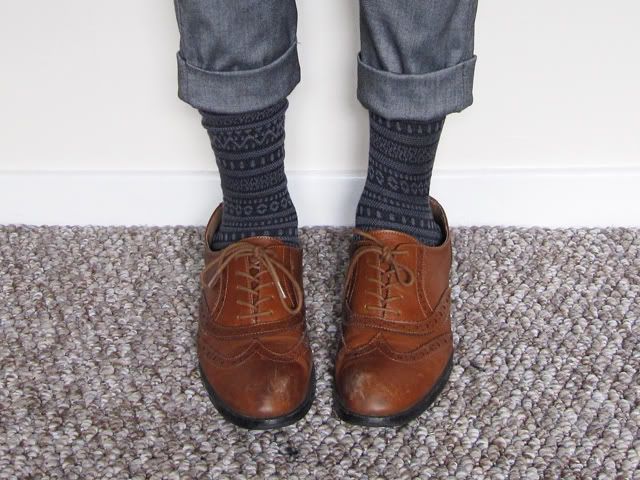 So who else out there is an online shopping addict too? I even made a
Google Boutique
, which is sure to be taking my money when/if I'm making the big bucks. Maybe I should start a support group…
Follow on